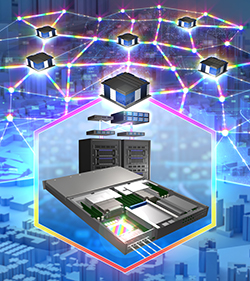 Photonics and electronics have been individually undergoing technological advancement. Over the last 30 years, with the development of die shrink technology, electronics has been rapidly evolving in a wide variety of semiconductor integrated circuits.
Photonics, on the other hand, has been used in applications such as high-speed optical communication, and interconnection in a supercomputer-racks, proving effective in fields that require high performance. Datacenters and ICT equipments such as PCs which are essential in supporting today's ICT society are facing limitations for reducing power consumption, downsizing, and increasing performance. To break through these difficulties and to be sophisticating today's VLSI/ULSI systems, it is essential to implement architectures, devices, and systems based on the convergence of photonics and electronics.
Photonics Electronics Technology Research Association (PETRA) is developing world-leading photonics devices, packaging and integration technologies through the collaboration of experts in these technology fields.